Pirelli Scorpion AT Plus Tyres Available in Brierley Hill,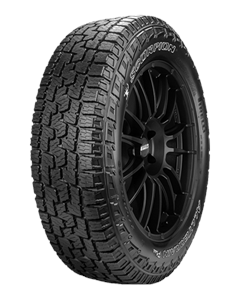 Scorpion AT Plus
The new Scorpion™ All Terrain Plus combines Pirelli's advanced compound and design technology with an aggressive appearance to provide light truck and SUV owners with a durable All-Season tyre, and a high performing driving experience through a wide range of challenging on or off-road conditions.
Sporting a new generation tread compound and aggressive design, the Scorpion™ All Terrain Plus tyre represents a totally new product with a significant upgrade in terms of off-road performance in respect to the previous Pirelli Scorpion™ ATR. The brand new tread pattern increases durability, traction and wear resistance, offering high performance in snow, off-road and muddy conditions. In terms of usage ratio, the new Scorpion™ All Terrain Plus is a 60% off-road and 40% on road product.
The new Cut & Chip Technology, which consists of a specific tread pattern design developed for the new Scorpion™ All Terrain Plus, provides the tyre with the following features:
Aggressive Tread Pattern and Upper Sidewall Design

Great look for trucks and SUVs
Balanced performance for on and off-road conditions

New Generation Tread Compound

Optimised for durability, traction, and wear
High resistance to cutting and chipping of the tread elements
Excellent snow traction, and sidewall marked with three-peak snowflake

Deep Tread Grooves with the Stone Ejection System

Excellent traction in mud and snow
Conical Stone Ejectors force small stones out from the tread